About Us
Riverton Veterinary Clinic is your trusted partner for your pets' long term health and happiness.
Meet Our Team
Dr. Dale Smith, DVM
Clinic Owner
Dr. Smith was born and raised in Southern California. His love for skiing and the mountains brought him to Utah many years ago. He spent his summers as a wrangler at a summer camp in Antimony, Utah, and attended the University of Utah, where he earned a B.S. in biology. He then attended Colorado State University School of Veterinary Medicine. After graduating from veterinary school, Dr. Smith studied and practiced in Baltimore and Philadelphia, then returned to Utah and opened an orthopedic referral practice in Salt Lake City. He has two wonderful children. Dr. Smith has 2 Golden Doodles, Jack and Frankie, and a Devon Rex named Willow. He also shares his life and house with his 33-year-old Amazon Parrot, Bob. He continues to enjoy the vast outdoor opportunities that Utah has to offer.
Dr. Kim Ingraham, DVM, CVA
Medical Director
Dr. Ingraham is a Utah native. She received her BS degree in Bio-Veterinary Science at Utah State University and her Doctorate of Veterinary Medicine at Colorado State University. After graduation, she married a career military service member and traveled with him for the next ten years. During this time, she had the honor of working in Okinawa, Japan, North Carolina, Washington, and Arizona before coming back and settling in Utah.
Dr. Ingraham managed a veterinary clinic in West Valley City for the past twenty years before coming to Riverton Veterinary Clinic. She received her certificate to practice Veterinary Acupuncture in 2007 and believes this modality has greatly helped many of her patients. Her interests are improving the human-animal bond through client education and dedicated care of her patients. Dr. Ingraham has two amazing sons and enjoys camping and boating with them outside of the clinic.
Dr. Sara Shaw, MS, VMD
Dr. Sara Shaw is originally from Pennsylvania and she earned her veterinary degree from the University of Pennsylvania in 1987. She moved to Utah in 1996 and has been practicing veterinary medicine here since then. For many years, she also taught human anatomy at Westminster College.
She has five adult children who also live in Utah and many family members and friends back in Pennsylvania. Dr. Shaw currently lives with her senior dog, Cody, and elderly cat, Grace. She also owns a beautiful paint horse, Roxy. When not working, her hobbies include hiking, traveling, horseback riding, and bicycling.
Dr. Shaw enjoys internal medicine, wellness, and pediatric aspects of veterinary care. Due to her teaching background, she also loves client education. Working with a great veterinary team has always been important to her and she knows she has found it here at Riverton Veterinary Hospital.
Dr. Jessy Albergo, MPH, DVM
Jessy Albergo is an Illinois-native who graduated from the University of Wisconsin- Madison. After receiving her Doctorate in Veterinary Medicine and her Masters in Public Health, Albergo decided to leave the Midwest in search of mountains and less gruesome winters. This search landed her in Utah.
Dr. Albergo enjoys preventive medicine, public health, and client education. She likes to take a team-based approach with her clients to develop the best diagnosis and treatment plan for their pets.
Outside of work, Dr. Albergo enjoys hiking, camping, and spending time outdoors. She lives with her husband and 2 pitbull mixes- Eleanor and Odin. She is excited to make Riverton Veterinary Clinic her new home and work with all of you!
Dr. Jessica Zelnik, DVM
Dr. Jessica Zelnik grew up in Alaska but has called Utah home since 2009 after graduating from Washington State University College of Veterinary Medicine. Dr. Zelnik joined Riverton Veterinary Clinic in 2021 where she specializes in small animal general surgery and dentistry. Dr. Zelnik has received advanced training in soft tissue surgery, dentistry, orthopedic surgery, and pain management. She believes the success behind a healthy pet starts with preventative medicine and acting on health issues early. When a patient is admitted for surgery with Dr. Zelnik she treats that pet as her own, so you can be sure they receive thorough care with a gentle touch and extra snuggles.
Jessica is an avid biker and skier and enjoys all that Utah has to offer with her husband and daughter. When not at work they are busy camping, traveling, and spending time with friends and family.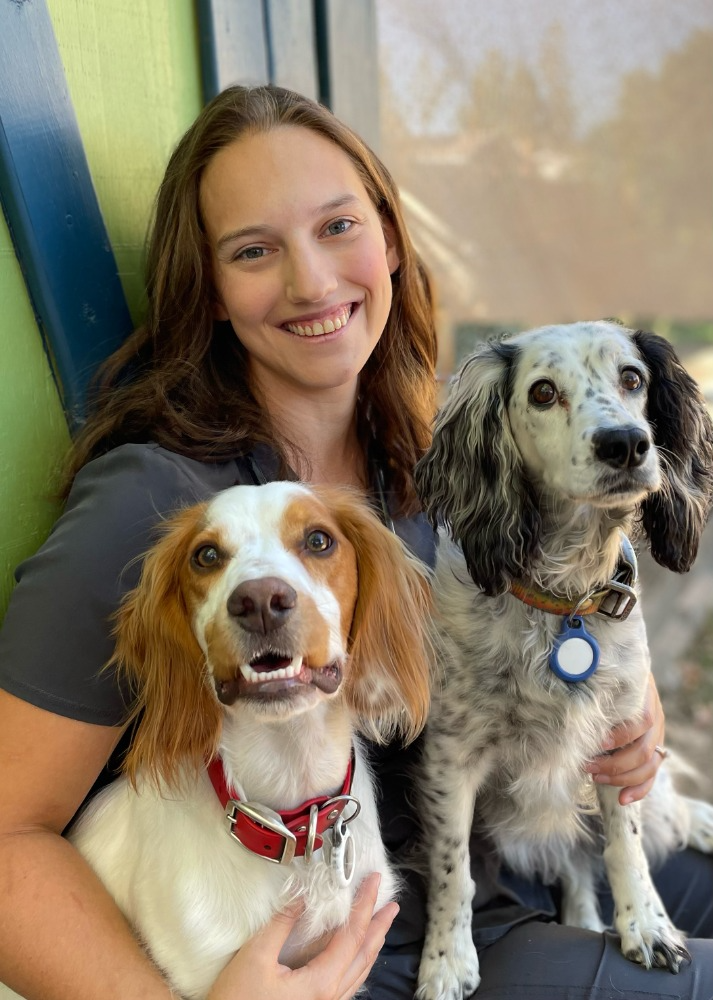 Dr. Erin Krysinski, DVM
Raised in Michigan by two veterinarian parents, Dr. Erin Krysinski received her doctorate in 2019 from the Michigan State University College of Veterinary Medicine. Soon after graduation, like many midwestern flatlanders, Dr. Krysinski made the big move out west in search of mountains and better winter weather. Naturally, she ended up in Utah.

Dr. Krysinski spent several years practicing at Hunter Animal Hospital before making the move to Riverton Veterinary Clinic in September 2022. Professionally, Dr. Krysinski loves orthopedics and soft tissue surgery. Additionally, she enjoys using her skills to strengthen the human animal bond. In her words, Dr. Krysinski is "super stoked" to begin working with the professional staff at Riverton Veterinary Clinic.

When she isn't at the clinic, Dr. Krysinski can be seen three-day eventing with her Thoroughbred "Sur" or hiking/biking with her husband Seth and 2 Field Bred English Cockers "Finny" and "Shorts." They also share their home with two cats, "Bridger" and "Mackinac," 11 chickens, and a myriad of house plants.

Dr. Krysinski is so excited to meet you and begin her new veterinary journey at Riverton Veterinary Clinic!
Dr. Lindsey Maloof, DVM
Dr. Lindsey Maloof grew up in Milford, Massachusetts. She earned her BS degree in Animal Science from Rutgers University and her Doctorate of Veterinary Medicine from Iowa State University. She continued to move west and landed in Taylorsville, Utah where she has practiced for the last 15 years.
Dr. Maloof's professional interests include internal medicine, preventative medicine, and the human-animal bond. She also has an admiration for working dogs. She enjoys building lasting relationships with her clients and their pets, through compassion and guidance. She strives to get to the root cause of her patients' ailments, to provide the best treatment options. Over the span of Dr. Maloof's career, she has had the opportunity to serve the community caring for police dogs and working with local rescue organizations to provide medical and surgical care for dogs and cats, aiding them in finding their forever homes. She has mentored veterinary students and recently graduated veterinarians and is passionate about passing on her knowledge and experience.
Outside of work, Dr. Maloof enjoys practicing and competing in dog agility, traveling, and experiencing new adventures with her husband and daughter. She is also a self-proclaimed foodie. Dr. Maloof has a Golden Retriever named Griffin and a cat (who thinks she is a dog) named Grace.
Dr. Maloof is excited to be joining the team at Riverton Veterinary Clinic!
Lance Bermudez Ward
Practice Manager
Lance started his veterinary experience at the age of 13 and continued in the field becoming a licensed Veterinary Technician. He brought his considerable experience to Riverton Veterinary Clinic in January 2020 and is excited for the new adventures that await him as he serves the clients and patients of RVC. Lance enjoys client education and empowering staff to be the best they can be. While not working, you will find him spending time with his husband and three girls. He enjoys running, hiking, and walking his two Yorkies, Tinker and Bell.
We're committed to your pet's overall health.
View our list of services.
"The doctors and staff at Riverton clinic are so caring and friendly. The love my pups like I do. I have one with a unique genetic disease that they treat and one that eats everything in sight. They've saved both of their lives multiple times. We love Riverton Vet."
– Ashley